Personal profile
Personal profile
Vivienne Suvini-Hand, Professor of Italian Literature and Music, gained a first class honours degree in Joint Italian and French at Trinity College, Dublin in 1983, also winning the French Government Award for that year. She went on to study at New College, Oxford University, transferring to Linacre College on the award of a scholarship, and gaining a Doctorate at Oxford in 1989. She became a lecturer in Italian at Royal Holloway in 1988, a Senior Lecturer in 1999, a Reader in 2003, and a Professor of Literature and Music in 2005. She is currently an Emerita Professor at RHUL, pursuing research on poetry and classical music.  
She is the Founder and Director of Voice and Violin Hub @ The VVH which specializes in Classical Violin, Singing, Piano and Music Theory. @ The VVH website can be accessed here:  https://tinyurl.com/yu9tj75t
Research
Professor Suvini-Hand pursues research on modern and contemporary Italian poetry, eighteenth to twentieth-century opera, Italian instrumental music and the relationship between libretti and music in the work of avant-garde composers. Her major book publications to date include: Andrea Zanzotto (Edinburgh, 1994), Mirage and Camouflage: Hiding behind Hermeticism in Ungaretti's L'Allegria (Leicester, 2000), Sweet Thunder: Music and Libretti in 1960s Italy (Oxford, 2006)1   Paganini, "Little Pagan". The Life of Paganini in Verse (Charleston SC, 2017) and Niccolo' Paganini: A Re-evaluation of his Legend (Verlag: 2018) She is currently writing two further books: La poesia come inganno: il novecento italiano e la dialettica dei contrari, and Representations of Niccolo' Paganini in literature and the visual arts. She has already produced substantial publications on Paganini in peer-reviewed journals.
v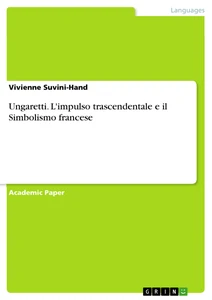 Sweet Thunder: Music and Libretti in 1960s Italy pays tribute to the astounding complexity of five vocal compositions by leading experimental composers of the decade – Luigi Dallapiccola, Bruno Maderna, Luciano Berio, Giacomo Manzoni, and Armando Gentilucci. It demonstrates how their 'difficult' and unconventional methods of composition – dodecaphony, total serialism, Webernian minimalist techniques, aleatory and electronic music – reveal a refusal to compete with the values of Italy's new capitalist society. The composers' libretti, reproduced here in full parallel Italian and English text, form a collage of European and oriental literary sources dating from the sixteenth century BC onwards. It is demonstrated how these are libretti as radical as their scores: they prefer, in Umberto Eco's words, 'organised disorder'.
 1. Reviews
In Giustificativo, Nov., 1994, p. 5; Times Literary Supplement, Feb., 17, 1995, p. 23; Times Higher Education Supplement, April 14, 1995, p. 25; Italian Studies, L, 1995, pp. 173-175; Modern Language Review, 91.4, 1996, pp. 1015-1016; Poetiche, no. 3, 1966, pp. 103-110 (Review-article); Il Sole-24 Ore, 19 gennaio, 1997, no. 18, p. 25 (Italian newspaper); Il Corriere della Sera, 5 settembre, 1997 (cultural page) (Italian newspaper); Annali d'italianistica 19 (2001), pp. 438-441 (Review-article); Cambridge Opera Journal, vol. 20, issue 3, pp. 299-302; Forum for Modern Language Studies, 47.1. Jan 2011; http:/www.invia.net/pl/songs/14-2. 
Review comments include:
On Andrea Zanzotto:
' A landmark in Zanzotto criticism' (THES)
'This excellent volume is an indispensable tool for scholars and students. An admirable and exceedingly valuable piece of scholarship' (Italian Studies)
'Hand's compelling study should be read by all who are curious of the fate of poetry in the modern world' (MLR)
'Impressively thorough' (TLS)
'This book, for its sharp critical acumen and clarity of exposition, places itself among the most valid contributions to the interpretation of the work of a great poet' (Poetiche).
On Mirage and Camouflage:
'Hand's book is the first in a new possible phase of criticism on Ungaretti, showing how it is possible to absorb the historical implications of the ideological ambiguity of the poet into a critical analysis of his actual poetry'.
'She creates a detailed, careful and fascinating fresco' (Annali d'Italianistica).
On Sweet Thunder:
'Sweet Thunder is a welcome addition to the literature on recent opera, valuable to both the musicologist and the literary scholar'.
'The literary readings are so detailed and sophisticated that it is impossible to do justice to them here'.
'Suvini-Hand's is moreover the first scholarly analysis of the text of Maderna's Ausstrahlung, and its attention to this fascinating work alone would make the book worth reading '.
'It is definitely recommended reading for those with an interest in post-war Italian culture' (Cambridge Opera Journal).
'This distinctive tone makes these compositions uniquely commendable for further investigations into their influence on Italy's artistic canon' (Forum for Modern Language Studies).
Awards
The writing of Sweet Thunder: Music and Libretti in 1960s Italy and its related activities (conferences and concert performances) were supported by three grants from the Arts and Humanities Research Board, the British Academy and the European Music Society. Previous grants include £25,000 from Credito Italiano International Ltd. for the promotion of Italian contemporary music which involved, among other activities, the production, with her husband, the conductor and violinist, Luigi Suvini, of a CD and monograph on the music of Luigi Dallapiccola (see below), a one-day conference at the Italian Cultural Institute, and a Monographic Concert of the music of Giacomo Manzoni at the Purcell Room, South Bank Centre. The CD released by Nuova Era was broadcast by BBC, Radio 3, Italian Radio 3, the Mexican State Radio, and ORF (Oesterreich Rund Funk). It was also played on 'Dallapiccola Night' (22.11.2004), BBC Radio 3, in a programme devoted to centenary celebrations of the music of Dallapiccola.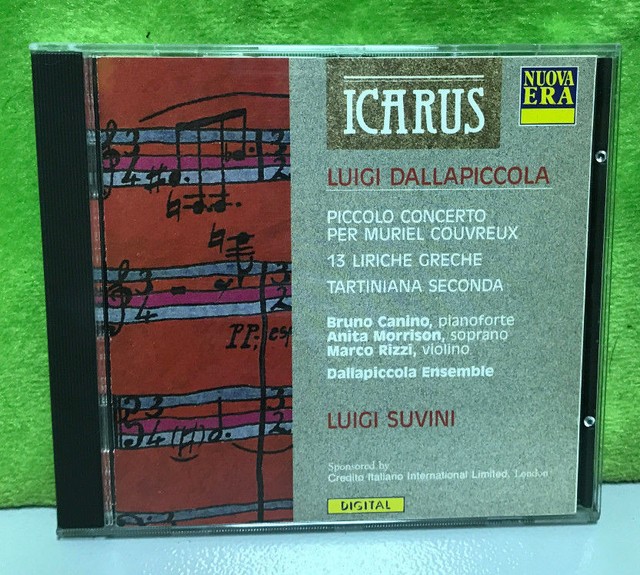 Luigi Dallapiccola, Cinque frammenti di Saffo (1942)
www.youtube.com/watch?v=6AdHzgMPi2s
Luigi Dallapiccola, Piccolo Concerto per Muriel Couvreux (1939-1941)
Luigi Dallapiccola, Due liriche di Anacreonte (1945)
www.youtube.com/watch?v=IKSsZTQ1NDo
Luigi Dallapiccola, Sex Carmina Alcaei (1943)
www.youtube.com/watch?v=vEmKXuPJIqo
 Courses taught  
IT1730 Visions of the Self / Self-Representation in Modern Italian Culture 
IT2720 Opera and Operatic Culture in Italy 
IT2821 Italian Hermetic Poetry 
ML2201 European Narrative 
IT3050 Advanced Italian III – Translation from and into Italian 
IT3900 Approved Topic. Special Subject Dissertation. 
MA Italian Opera
IT3990 Postmodernism: Pioneers and Practitioners. 
Postgraduate Supervision.
Since the year 2000, Professor Suvini-Hand has supervised MA theses on Gadda, Savinio, Verdi and Puccini, and has provided supervision to M.Litt., M.Phil. and PhD. students on Neo-Realism, the poetry of Ungaretti, Turoldo, the novels of Pirandello, myth and the figure of Penelope in Italian literature, Popular Music and the Musical in Rome from 1945 to the Present, and Italian Verist Writers and Painters.
Musical Education and 'Impact' Activities. 
Professor Suvini-Hand is a graduate of the Royal Irish Academy of Music in Dublin where she studied violin, singing and composition. She was a pupil of the distinguished Polish bass-baritone, Professor Maciej Smolenski. She also studied with the operatic tenor, Nicholas Buxton of the Royal Opera House, English National Opera and Welsh National Opera. 
She is the Founder and Director of  Voice and Violin Hub @ The VVH  which specializes in Classical Violin, Singing, Piano and Music Theory. 
Vivienne has repeatedly won awards for music and acting from an early age (http://www.newrymusicalfeis.com/pages/index.asp?title=1970s). As an opera singer, she has performed many leading roles with operatic companies in the UK, including Lucy Lockit in Benjamin Britten's The Beggar's Opera (original, John Gay), Giannetta in Donizetti's L'elisir d'amore, Carmen in Bizet's Carmen and Liu in Puccini's Turandot. She has delivered concert performances of, and concert talks about, operatic repertoire by Mozart, Meyerbeer, Rossini, Donizetti, Offenbach, Delibes, Bizet, Massenet, and Puccini. Organization of recent events for the promotion of Italian opera among audiences beyond the strictly academic include a series of lectures and operatic aria performances for the EMS in 2009 and 2010. She has delivered lectures on Italian Opera at both undergraduate and postgraduate level for many years at various universities and third-level institutions. 
Vivienne is also actively engaged in outreach programmes organized by the European Music Society, working in various 'impact' activities for the promotion of European instrumental music both in the UK and abroad. She has been involved in the organization and delivery of the following: Concert of music by Locatelli and Vivaldi (Associazione Euro-Art, August 2009); The Art of Playing: Paganini and his Circle' (Lecture and concert, EMS, March 2010); 'L'Arte di Suonare: Paganini e il suo milieu. Concerto e discorso sulla musica per il violino - Paganini, de Beriot, Spohr e Wieniaski' (Associazione Euro-Art, August 2010); 'It isn't he: Ingres's Paganini and Delacroix's Parody'. Lecture and performance of Paganini, Caprice no. 13 and 'Cantabile' (EMS, March 2011). 
Heavily involved in the musical education of young people, she has coached and played as a violinist with local chamber ensembles, including the St Cecilia String Ensemble and the West Hampstead Symphony Orchestra.   
Vivienne combines her academic knowledge of music and her great passion for the musical education of young people in her writing of children's literature on cultural and educational topics. She has written children's poetry designed to accompany the teaching of the violin Suzuki repertoire, and a book designed for adults and children with a scholarly introduction and notes, entitled Paganini, "Little Pagan". The Life of Paganini in Verse (Charleston, SC, 2017, 157pp).  
Vivienne frequently reviews classical concerts for newspapers and music magazines. She is an accredited reviewer for Bachtrack and has been covering the concerts of internationally acclaimed violinist and conductor, Maxim Vengerov, in particular his residency with the Barbican, London and the Oxford Philomusica, 2013-2014 (the reviews can be read, below).
Activities
3 Public engagement, outreach and knowledge exchange - Other
Vivienne Hand (Participant)

2016 → 2017

Activity: Other › Public engagement, outreach and knowledge exchange - Other

Vivienne Hand (Participant)

Jun 2015

Activity: Other › Public engagement, outreach and knowledge exchange - Other

Vivienne Hand (Participant)

Nov 2013

Activity: Other › Public engagement, outreach and knowledge exchange - Other